$

1

*

Buys

$

100

,

000
Globe Life Insurance
Get FREE Life Insurance Information
Or call for more information: 1-800-742-6787

Or call for more information
1-800-742-6787
Choose Your Coverage:
$30,000
$50,000
$100,000
No Medical Exam
Simple Application

No Agent Will Visit—You Buy Direct
No Waiting Period
Full Coverage The First Day
Monthly Rates as low as:
$3.49 for Adults
$2.17 for Children or Grandchildren
Globe Life Step Up Scholarship
November 29, 2018
On December 17, 2018 Globe Life donated $25,000 to Step Up For Students Scholarship Program for the 2018-2019 school year. The donation will help fund three K-12 scholarships so lower-income children can attend the school that best meets their learning needs.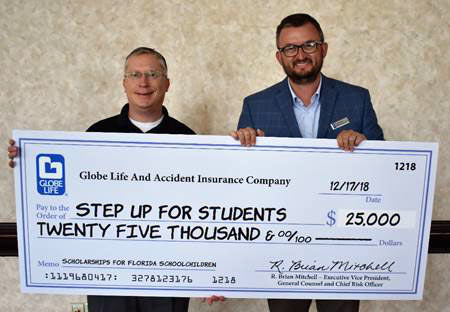 David Bryant, Development Officer for Step Up For Students (left) and Corey Jones, Globe Life SVP of Digital Marketing and Branding (right)
"With roots going back to 1900, Globe Life has believed in giving back to the communities in which we live and work," said Corey Jones, Globe Life Senior Vice President of Digital Marketing and Branding. "We strive to create opportunities to be a source of good to those around us and we are proud to support Step Up For Students to provide education opportunities for children in our community."
Step Up For Students is a nonprofit organization that helps manage the income-based Florida Tax Credit Scholarship Program. The program is funded by corporations with tax-credited donations and allows parents and students to choose between a K-12 scholarship to support private school tuition and fees, or one that assists with transportation costs to out-of-county public schools.
For the 2018-2019 school year, Step Up For Students is serving more than 98,500 students throughout Florida with tuition scholarships valued at up to $6,519 per student for kindergarten through fifth grade, $6,815 for sixth through eighth grade, and $7,111 for ninth through 12th grade. More than 1,800 private schools participate in the scholarship program statewide.
To learn more about Step Up For Students, visit: www.StepUpForStudents.org.
Join 4.2 Million Current Globe Life Policyholders
Globe Life's values have remained the same since our roots began in 1900.