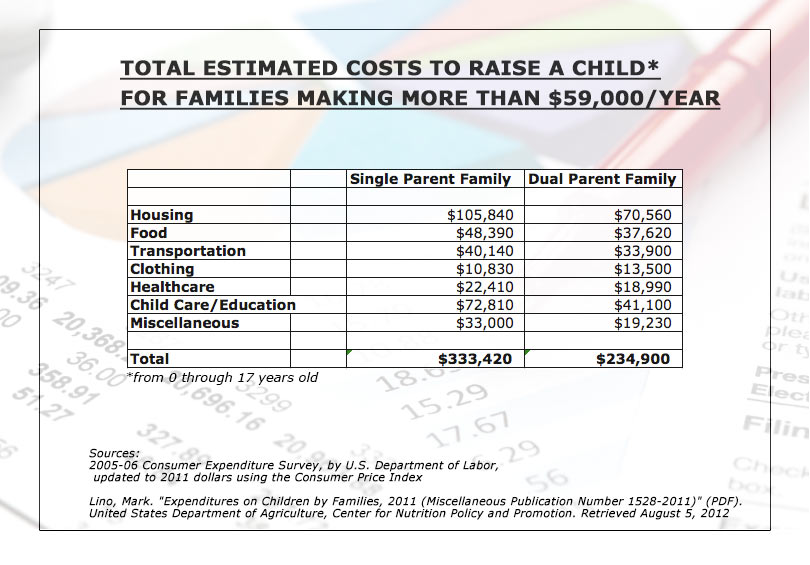 Costs of Raising Kids - Online Calculators
• Baby Center's Costs of Raising a Child Calculator
• Parenting's Calculator
• Saving for College Calculator help parents plan ahead.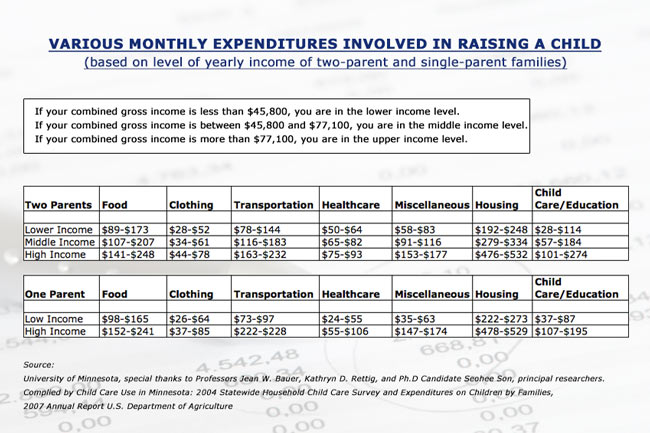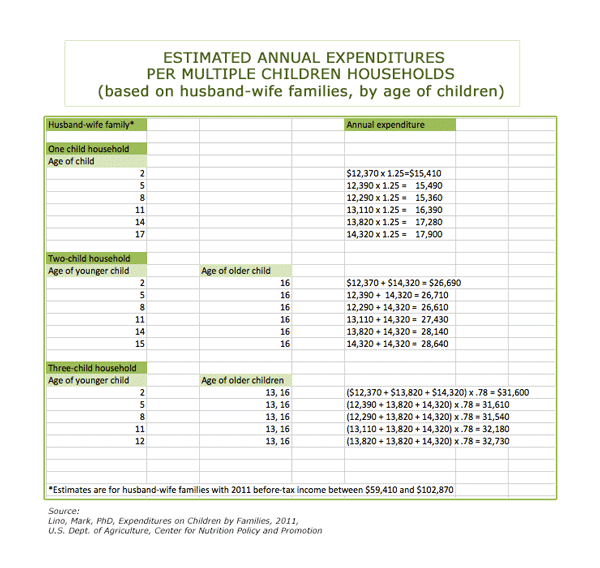 Costs to Birth a Baby
Article on birthing costs with specific examples.
WebMD covers the costs of pre-natal care, and how much specific procedures during child birthing cost.
The Childbirth Connection takes statistics released by the U.S. Department of Health and Human Services and breaks down the costs by state, for the cost of labor and births. Childbirth Connection's tabulated data features a chart revealing the cost of each procedure dependent upon what type of birthing facility is used.
The January 2013 study titled " The Cost of Having a Baby in the United States" analyzes the healthcare costs in the initial three months after a baby is born.
Governmental and Educational Collected Reports and Data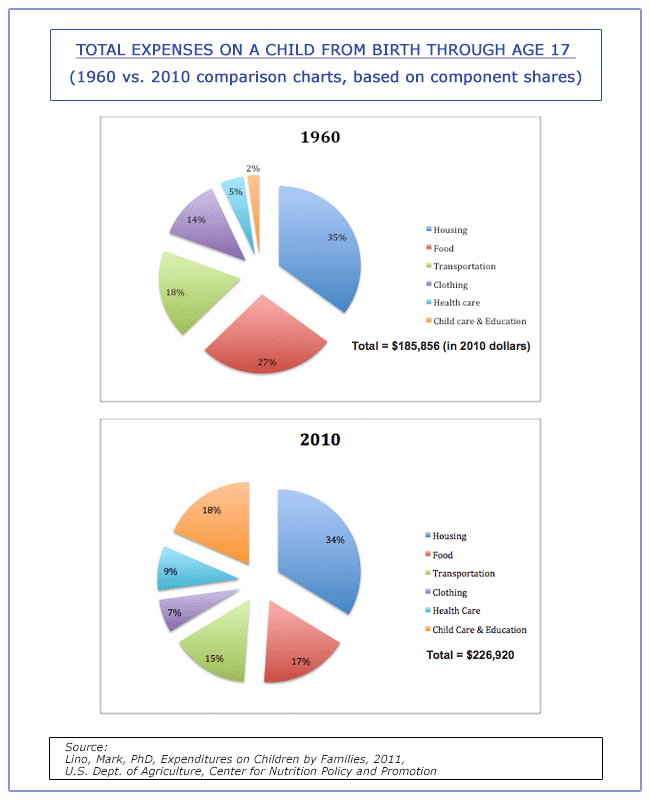 National Center for Education Statistics (NCES), collects, analyzes and publishes information about educational systems both in the U.S. and abroad. The Digest of Education Statistics showcases current and total expenditures broken down by student.
The National Association of Independent Schools (NAIS), U.S. organization representing over 1,100 schools including private, nonprofit, and K-12, supplies resources and direction in terms of finances and school sustainability. The 2011-2012 NAIS Annual Report shows trends, statistics, and data on expenses for different schools and school systems.
PayScale.com's "Colleges Worth Your Investment" 2013 full list, categorized by ROI and financial aid options.
Child WellBeing Index (CWI) combines multiple sources to gather and publish data about overall well-being of children.
Cost of a Child's Education

The cost of a child's education depends on whether parents elect to send him or her to private or public school.The National Retail Federation's survey revealed that families are expected to spend less in 2013 on back-to-school items than they did in 2012.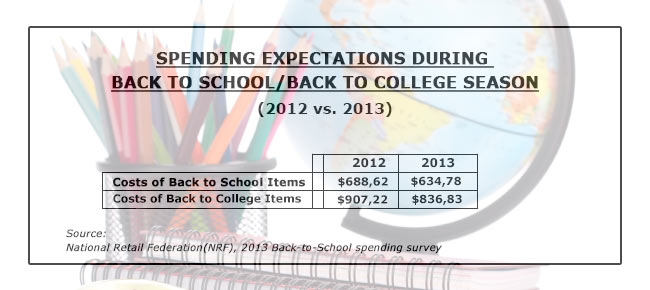 Boarding school is an investment in education, but how much does it really cost? Collegebound Network supplied a detailed list of the fees and costs aside from just tuition to send a student to boarding school.
The National Catholic Educational Association (NCEA) publishes an annual report dense with data on facts and figures about Catholic elementary and secondary schools. Information includes an average per pupil cost.
Los Angeles Private Schools Tuition List by Christina Simon, Anne Simon and Porcha Dodson (of Beyond the Brochure ) - highlights data for parents applying for private elementary schools in Los Angeles
The Maine Dept. of Education's 2012-2013 Private School Tuition Rates provides a table for the cost of tuition by region and school. This table can act as a reference for comparing price tags on tuition based on municipality, and seeing the average price per pupil.
" The 50 Most Expensive Private High Schools in America" breaks down tuition costs for the most expensive private schools in the country. Private high schools in the U.S. run tuition fees between $8,000 and $43,300, per year.
" Private School can Cost over $1 Million" covers multiple costs through the years of paying for private schooling from kindergarten up through law school, demonstrating how a child's private school education could hit the $1 million mark over the course of 24 years.
Public schools come with a lower price tag, but articles from newspapers like the U.S. News and Fox Business point out that there can still be "hidden" price tags for families that believe public school is completely free.
An article in the Boston Globe features a breakdown of how much public school really costs for parents.
Housing Costs
According to an article in the Washington Post, based on the USDA expenditures report, " Expenditures on Children by Families ," housing costs make up approximately 30% of the overall cost of raising a child. The results of the latest USDA study can be found in the 2012 report.
Food Expenses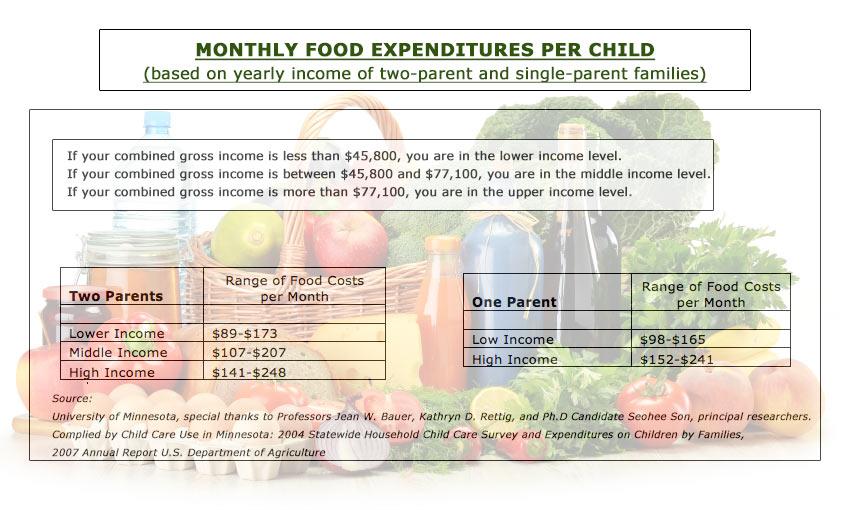 The University of Minnesota compiled data to break down the cost of food expenses per month, per age of a child.
Transportation & Clothing Expenses
The average cost of transportation per child includes many variables, hence a broad range of price tags with it.
The University of Minnesota's data concludes that monthly transportation costs can start at about $73 per month for a 0 to 2-year-old-child of a low-income, single-parent, and go all the way up to $232 per month for a 15 to 17-year-old living in a dual-parent, upper-income family home.
Health care Expenses
The USDA defines "health care expenses" as being made up of the premiums paid by a family (not the amount covered by an employer,) as well as prescriptions, medical and dental services and their copays, and any other service not covered by insurance that must be paid for out-of-pocket by parents.
The Health Care Cost Institute (HCCI) released a report in July 2012 on the health care costs of children between 2007 and 2010, which revealed that the cost of health care for children rose faster than the cost for adults during that four-year period. In 2010, the average cost of health care per child was $2,123 which was up 18.6% from the cost in 2007.
Most Versus Least Expensive States to Raise a Child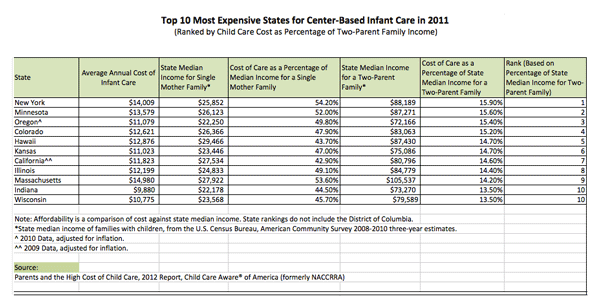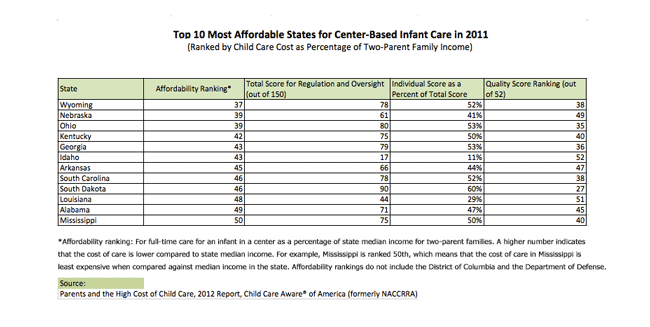 The cost of child care makes up a big portion of the determining factor for which states are the least and most expensive for raising children. Child Care Aware of America (CCAA) released a report in 2012 titled, "Parents and the High Cost of Child Care," which ranked states by looking at the average cost of infant care on an annual basis along with the state median income for dual-parent and single-parent households. CCAA's outcomes are based on the average annual cost of infant care as a percentage of the median income from a dual-parent household.
Estimating Future Costs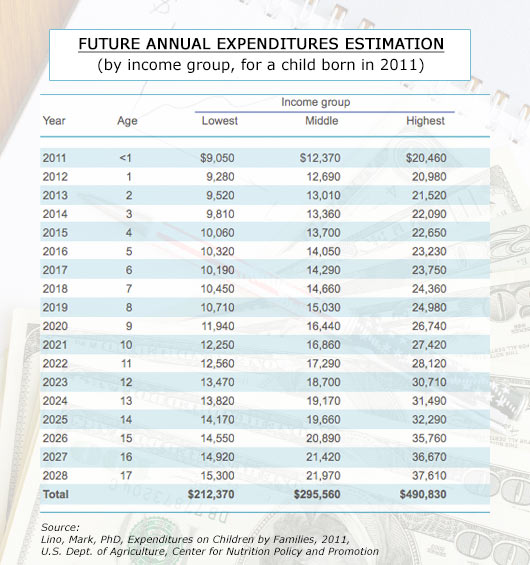 The USDA projected future increases in costs to raise a child as a result of inflation.According to the USDA, p.20-21) projections for inflation are about 2.55% annually. Multiple other factors may also be considered, such as raises in income, bonuses, and salaries.
Parents anticipating having more than one child will find info about costs of raising multiple children from personal finance expert, Mary Caraccioli, who estimates that families with three or more children spend 22% less per child than families with only two children.
Cost of Raising a Child Calculator, an online educational tool for parents, aimed at better planning for overall expenses for their children
Expenses Not Included Elsewhere
The U.S.D.A.'s $234,900 estimated cost to raise a child born in 2011 does not take into consideration college tuition, or the fact that teenagers and young adults these days are living at home with their parents for longer. Pew Research Center for Social and Demographic Trends compares living arrangements of young adults between 1968 and 2012 and results are that in 2012, 36% of the "Millennial generation" (that is, young adults between the ages of 18-31,) lived at home with their parents. (That's 21.6 million young adults living in their parents' homes, the highest this number has been in over 40 years.)
Expenditures on Children by Families, 2012 report by U.S. Department of Agriculture (USDA) is one of the most comprehensive resources out there. The 50th anniversary report (released in 2010), also by the USDA, includes a comparison of the cost to raise a child in 1960 versus 2010.