$

1

*

Buys

$

100

,

000
Globe Life Insurance
Get My FREE Quote — Apply In Minutes
Choose Your Coverage:
$30,000
$50,000
$100,000
$5,000, $10,000, $20,000, $30,000, $50,000, $100,000


No Medical Exam —
Simple Application

No Medical Exam—Simple Application

Free Quote—Apply Online


No Waiting Period
Full Coverage The First Day
Fast Approval Process
Full Coverage The First Day—Fast Approval Process

Monthly Rates as low as:
$3.49 for Adults
$2.17 for Children or Grandchildren
Building Your Kids Self Esteem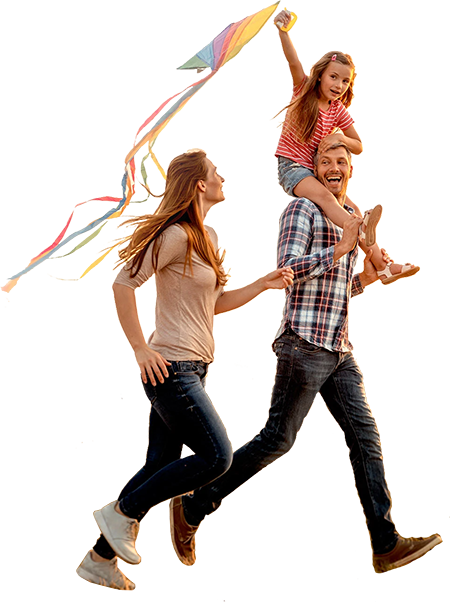 $

1

*

Buys

$

100

,

000
Globe Life Insurance for Adults or Children



No Medical Exam
Simple Application

No Medical Exam—Simple Application

Free Quote—Apply in Minutes


No Waiting Period
Full Coverage The First Day
Fast Approval Process
Full Coverage The First Day—Fast Approval Process

Monthly Rates as low as:
$3.49 for Adults
$2.17 for Children or Grandchildren


By

Mike Elman

•
August 30, 2016
Insecurity and low self-esteem can lead to worry and anxiety when facing new challenges in life, especially in children. Children who feel good about themselves tend to face challenges with optimism. They handle conflicts better and feel less anxiety than those with lower self-esteem. In addition, kids with good self-esteem are able to handle negative peer pressure better. Experts agree that patterns of self-esteem begin in early childhood and follow into adulthood. In short, helping your children develop a heathy sense of self-worth early on can help them have more optimism as adults.
One way to help boost your child's self-esteem is to be a positive role model. Parents are the primary role models for their children. Children learn how to interact with others and how to think and feel about themselves, first and foremost, from observing their parents and other adults close to them. While this fact can be somewhat intimidating, it means that you have the power to be the positive role model your child needs in order to cultivate a sense of self-worth.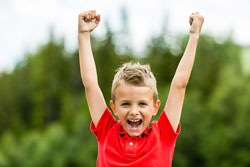 This can be difficult for parents who struggle with their own self-esteem or perhaps even depression. If you feel that your self-esteem could use a boost, try seeking outside help. Confronting your own issues with self-esteem may be just what you need to begin teaching your own kids how to be happier, more confident adults.
Another great way to help your kids is to present them with new challenges. Life as a parent can be hectic, whether you're a single parent, a working parent or a parent at home. Sometimes finding the time and energy to meet the needs of your kids can feel overwhelming and exhausting. You may feel you don't have the time or the money to constantly present your children with new self-esteem building challenges, but it doesn't have to be time-consuming or wallet-draining.
Check your local YMCA for classes and activities for kids. Sports, dance and music classes offer excellent self-esteem building opportunities. You can also do it right at home. Help them complete a puzzle or teach them a new game. Find fun, interactive games on the internet that will help them build new skills. Challenges that involve working with other kids or adults are especially good for building self-esteem.
Remember to accept less than perfect from your children. All parents want their children to be happy and to have the best in life. However, for a child to develop a healthy sense of self-worth, they must learn that making mistakes is a normal part of life. Children who feel that mistakes signal the end of the world will struggle with self-confidence. So how can you teach your child that failure isn't necessarily a bad thing? For starters, let them know you're less than perfect. Be a good role model by admitting when you make a mistake. When your child is old enough to understand, discuss some of the mistakes in your life and how you learned from them. Show them a mistake is often the first start on a journey towards getting it right.
As you know, it's also very important to be there for your children when they need you. All humankind, adults and children alike, crave two states in life that are somewhat contradictory: excitement and safety. Parents know that excitement comes easily for most children. Children often meet new challenges with a kind of fearlessness that adults lose along the way. Children, just like adults, also crave security. Kids who feel safe and supported by their parents or guardians, gain more confidence and have less fear and anxiety.
With career and schedule demands, it may be not be possible to be there at every event or activity. However, kids need to know what to expect and that they can count on you. Try not to make a promise you may not be able to keep. If you can't physically be there something, make a phone call or find some other way to show them you're still supporting them.
As parents, it is also important to watch your words. Words have power. Always remember how much your words can influence your relationships with others. What you say to a person can change how they feel about you, but it can also change how they feel about themselves. When your words are uplifting and encouraging, they produce positivity. On the other hand, words can also damage a relationship and hurt a person's self-esteem. Cruel or discouraging words from a parent can have long-lasting effects on a child's self-esteem.
Keep your words positive when speaking around your kids. Even if you're angry, never say anything you might regret later. If your child doesn't succeed at something, simply let them know how proud you are and you can't wait to see what they do next. Kids know when adults are being disingenuous, so make compliments genuine.
Do your best to create opportunities for success for your children. Let your kids explore their interests. Most people enjoy doing things they are good at. Being good at something gives a great boost to one's self-esteem. Giving kids the chance to play to their natural abilities will have payoffs beyond simply feeling good. The ability to complete a task or excel at an activity can help a child gain confidence in their own ability to take on other tasks as well.
Creating opportunities for success by allowing your kids to pick pursuits that interest them, while teaching them the value of sticking to it regardless of hard it may be, can be a great tool in establishing the building blocks for good self-esteem.
Globe Life's values have remained the same since our roots began in 1900.