$

1

*

Buys

$

100

,

000
Globe Life Insurance
Get FREE Life Insurance Information
Or call for more information: 1-800-742-6787

Or call for more information
1-800-742-6787
Choose Your Coverage:
$30,000
$50,000
$100,000
No Medical Exam
Simple Application

Free Quote—Apply in Minutes
No Waiting Period
Full Coverage The First Day
Fast Approval Process
Monthly Rates as low as:
$3.49 for Adults
$2.17 for Children or Grandchildren
Layering Term Life Insurance Could Save You Money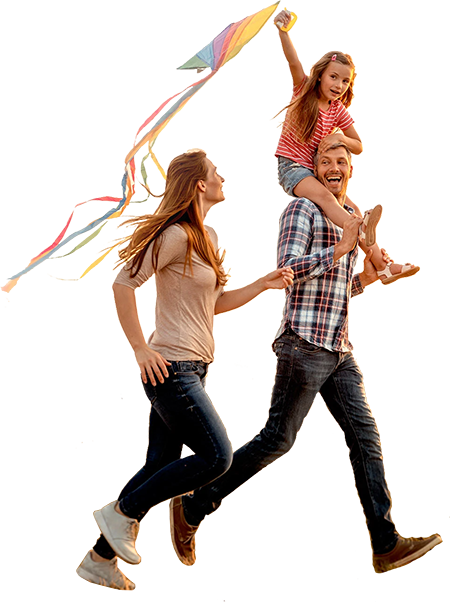 By

Corey A. Jones

•
July 31, 2019
One of the most common questions we hear in the insurance industry is, "How much coverage do I need?"
When it comes to life insurance, there are two different types of policies: whole life and term life. A whole life insurance policy lives as long as you do while a term life insurance policy is active for a certain period of time. The "one size fits all" phrase is not applicable to life insurance—coverage should be customized to where you are in your life. Your insurance needs change as your life goes on.
What Does it Mean to Layer Your Life Insurance Policies?
Layering, or laddering, is a technique that has become quite popular in the life insurance industry. It occurs when a consumer buys a few different term life policies with different term lengths rather than one whole life policy, or one large term life policy. In some instances, the layering technique can save policyholders almost 30%!1
We see layering policies when consumers have multiple reasons to buy a term life policy such as covering a mortgage, leaving dependents with a benefit, or general coverage for "just in case" purposes.
Layering life insurance is not recommended for everyone. It may be unjustifiable for a single male in his mid-20s who makes $55,000 a year to take out three term life insurance policies. Not only would it be questionable to the insurance company why this person would need so much coverage, but they would also have a concern with his ability to consistently pay all the premiums.
Cons of Layering Your Life Insurance Policies
Most insurance policies have a few different fees that cover things such as sales charges, mortality and expense risk charges, monthly per thousand charges, or general administration fees. When you ladder your insurance, you may be subject to paying multiple fees for each policy.
While it's encouraged to get a head start on your coverage needs, if you aren't sure of your future financial obligations, you could be excessively spending on multiple policies.
Having less insurance in your later years could backfire if you need additional money to purchase another house or deal with an emergency.
Should your spouse ever need to file a claim, he or she will need to file multiple claims and present a death certificate several times since you would have multiple policies.
Pros of Layering Life Insurance Policies
Because term life insurance is temporary and typically has no cash value, it can cost three to 10 times less than a whole life insurance policy.2
A term life policy tends to be more transparent because it offers coverage over a set period of time, which consumers pay in previously-defined regular payments. Term life insurance gives you one product that does one thing.
Term life policies give the consumer more control over his or her purchased coverage. Additionally, when your financial obligations change as your life goes on, you can customize your coverage to best fit your needs.
Layering Term Life Example
Let's see how our fictional friends Larry and Terri layered their term life insurance policies. Larry and Terri are married and in their mid-30s with two young children and a suburban home purchased at $500,000. Larry is a successful real estate agent while Terri provides child-care for their two young children.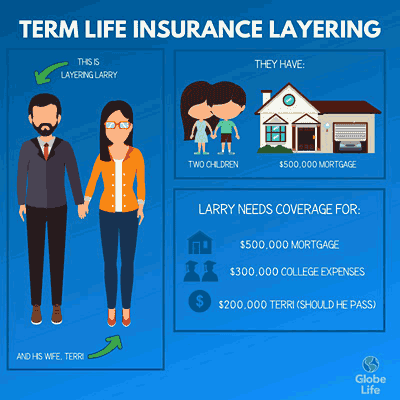 Larry is looking into life insurance and needs:

$500,000 for his mortgage with 10 years left
$300,000 for his two children's college expenses ($150,000 each)
$200,000 in the event of his death so Terri will be taken care of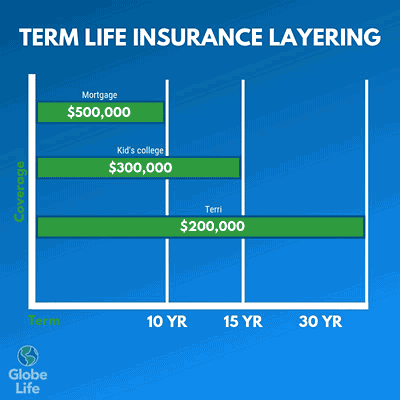 We encourage Larry to layer three term life policies as shown below:
Instead of purchasing one term life policy for $1,000,000 for 30 years at a fixed rate, we encourage Larry to purchase three separate term life policies:

One policy for $500,000 for 10 years
One policy for $300,000 for 15 years
One policy for $200,000 for 30 years
When Larry purchases three separate policies versus one large policy, he saves almost 34%! Let's see how this is possible.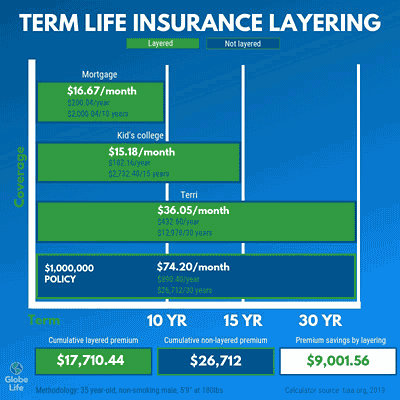 Term life insurance layering could possibly be a sound investment for some families, especially if their insurance needs decline as they age. However, the layering strategy could be highly complicated for those just starting out. When layering your life insurance, we highly recommend getting professional help to guide you through the process and ensure you're getting the best coverage at the best prices.
1. Termlifeadvice.com, 2018

2. NerdWallet, 2017
Join 4.3 Million Current Globe Life Policyholders
Globe Life's values have remained the same since our roots began in 1900.