Choose Your Coverage:
$30,000
$50,000
$100,000
No Medical Exam
Simple Application
No Waiting Period
You Buy Direct
Monthly Rates as low as:
$3.49 for Adults
$2.17 for Children or Grandchildren
Can I Sell My Whole Life Insurance Policy?

By

Lucille Reed

• June 26, 2019
Can I Sell My Whole Life Insurance Policy?
If you own a whole life insurance policy, as you know, there were many good reasons for you to purchase such a policy. When people make the decision to purchase a whole life insurance policy, they are often in the process of experiencing a major life-altering event, such as getting married, starting a family, or purchasing a home. Owning whole life insurance is very important to ensure our sense of security.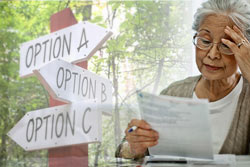 Maybe your circumstances have changed since you purchased the whole life policy and you're considering selling it. According to Investopedia.com, this is referred to as a life settlement, which is defined as "the selling of one's life insurance policy to a third party for a one time cash payment. The purchaser then becomes the beneficiary of the policy and begins paying the premiums." (This is similar to a viatical settlement.) The purchaser is typically an experienced institutional investor and the face amounts of policies will be $250,000 or more.1 (For more information on the difference between life settlements and viatical settlements, you can visit Investopedia.com.)
You may be considering selling your whole life insurance policy because you can't afford the premiums or because you no longer have people who financially depend on you. Selling the policy removes your coverage as well as any death benefit your beneficiaries would have received, but you may decide the cash payout is worth it (that is, if you are able to sell your policy).2
Shopping around to multiple brokers until you find the best deal may be the best strategy. You should be aware that the lower life expectancy you have, "the more you can sell your policy for," because buyers are hoping to collect on the death benefit of the policy sooner, rather than later. You may not even be able to find a buyer unless you're very old or terminally ill. And while the viatical settlement may be higher than the cash value of your whole life policy, it will not be higher than the death benefit.3
So if you're considering selling your whole life policy, you should consider if you'd rather have a higher payout to your beneficiaries after your death or a lower life/viatical settlement for yourself.
It's important to think about all the financial outcomes of selling your whole life insurance policy and whether or not it makes sense for you and your family. According to nerdwallet.com, "some of the money from a life settlement may be taxed as income or capital gains" and it may come with other financial obligations, as well.4
If you have any questions about selling a whole life insurance policy, please contact a financial advisor.
1. "Life Settlement," Investopedia, https://www.investopedia.com/terms/l/life_settlement.asp
2. "Considerations when selling a life insurance policy," NerdWallet, https://www.nerdwallet.com/blog/insurance/considerations-when-selling-life-insurance-policy/
3. "Life Settlement," Investopedia, https://www.investopedia.com/terms/l/life_settlement.asp
4. "Considerations when selling a life insurance policy," NerdWallet, https://www.nerdwallet.com/blog/insurance/considerations-when-selling-life-insurance-policy/
Join 4.2 Million Current Globe Life Policyholders
Globe Life has been protecting America's families since 1951