$

1

*

Buys

$

100

,

000
Globe Life Insurance
Get My FREE Quote — Apply In Minutes
Choose Your Coverage:
$30,000
$50,000
$100,000
$5,000, $10,000, $20,000, $30,000, $50,000, $100,000


No Medical Exam —
Simple Application

No Medical Exam—Simple Application

Free Quote—Apply Online


No Waiting Period
Full Coverage The First Day
Fast Approval Process
Full Coverage The First Day—Fast Approval Process

Monthly Rates as low as:
$3.49 for Adults
$2.17 for Children or Grandchildren
Risks of Dying from Cancer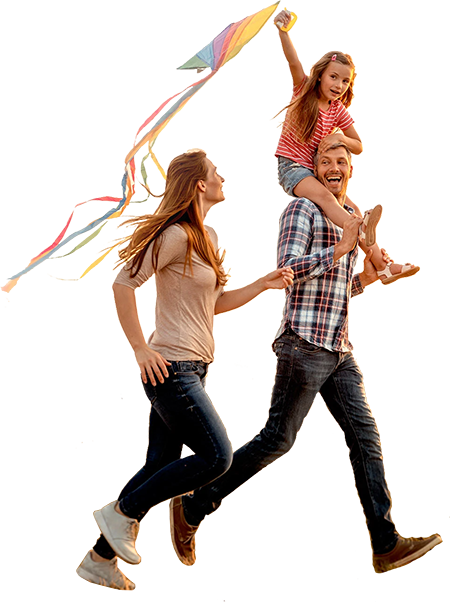 $

1

*

Buys

$

100

,

000
Globe Life Insurance for Adults or Children



No Medical Exam
Simple Application

No Medical Exam—Simple Application

Free Quote—Apply in Minutes


No Waiting Period
Full Coverage The First Day
Fast Approval Process
Full Coverage The First Day—Fast Approval Process

Monthly Rates as low as:
$3.49 for Adults
$2.17 for Children or Grandchildren


By

Corey A. Jones

•
July 31, 2019
After heart disease, cancer is the second leading cause of death in the United States. The American Cancer Society suggests there were an estimated 1,735,350 new cancer cases and 609,640 deaths in 2018. With breast cancer being the most common form of cancer in women, and prostate for men, the lifetime risk of developing cancer in the United States is almost 40%, or one in three Americans.1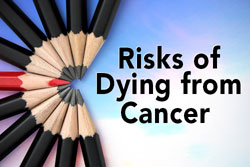 However, by knowing some basic research and statistics, Americans can help reduce the odds of developing and dying from cancer.
Mortality Trends
Fortunately, the rate of death from cancer in the United States continues to decline among both men and women. According to the American Cancer Society, the lifetime risk for each gender developing various cancers can be seen below.
MALES
Risk of developing
Risk of dying
%
1 in
%
1 in
All invasive sites
39.66
3
22.03
5
Bladder
3.76
27
0.94
106
Brain and nervous system
0.7
143
0.53
189
Breast
0.12
833
0.03
3,333
Colon and rectum
4.49
22
1.91
52
Esophagus
0.76
132
0.77
130
FEMALES
Risk of developing
Risk of dying
%
1 in
%
1 in
All invasive sites
37.65
3
18.76
5
Bladder
1.12
89
0.34
294
Brain and nervous system
0.54
185
0.41
244
Breast
12.41
8
2.62
38
Cervix
0.62
161
0.22
455
Colon and rectum
4.15
24
1.74
57
What's Being Done?
The Surveillance, Epidemiology, and End Results (SEER) program developed by the National Cancer Institute (NCI) collects and distributes cancer incidence and survival data from registries all over the United States. According to SEER, from 1991 to 2015, the overall cancer death rate in the United States decreased by 26% or 2.4 million lives.
When looking at the fight against cancer, death rates are the best measurement as they are less affected by detection practices than incidence and survival. The highest peak of cancer deaths occurred during the tobacco epidemic in the 1990s with 215 deaths per 100,000 people.1 Since then, society has seen a significant reduction in adults who smoke as well as improvements in early detection and treatment. This progress has translated into more than 2.3 million less cancer deaths from 1991 to 2015.2
The Future of Cancer
The future of cancer prevention looks more hopeful than it has ever before. The Memorial Sloan Kettering Cancer Center (MSK), the world's oldest and largest private cancer center, has taken a deeper look into five promising advances that may change our outlook and treatment on cancers.
Precision Medicine: During his final year as president, Barack Obama released an initiative that focused on precision medicine with treatments that match our genetics history. This individualized therapy essentially reverses the effects of specific gene mutations in tumor cells. The MSK is working to perfect basket trials and tumor DNA sequencing tests.
Checkpoint Inhibitors: Immunotherapy, a century-old technique, is when patients use their own immune system to fight cancer. The medication for this technique is under a treatment called checkpoint inhibitors, which eases constraints on the immune system to help it work more productively. MSK has played a major role in developing two checkpoint inhibitor drugs that boost the cancer-fighting powers to the immune system's T-cells.
Cell-Based Therapy: Chimeric Antigen Receptor (CAR) Therapy is an immunotherapy strategy where a patient's own T-cells are manipulated to attack cancer cells more readily. Essentially, the patient's T-cells are collected from his or her blood, genetically engineered to recognize certain proteins on cancer cells, and then infused back into the patient's body.
Epigenetic Therapy: For many years, doctors have attempted to control cancer by cutting out tumors or poisoning them with chemical radiations. Epigenetics focuses on transforming cancer cells back to their healthy state rather than destroying them.
Research into Metastasis: Metastasis, the process that allows cancer cells to break off from their tumor and develop in other areas, is the cause of nine out of 10 deaths in cancer. Because metastasis is hard to detect and isolate, the process for studying and controlling is very difficult. However, with the progression in research, scientists have discovered more information about metastasis including how cancer cells remain undetected. With this latest discovery, scientist may have a better avenue for treatment.
What Can You Do?
The American Society of Clinical Oncology (ASCO) states "researchers estimate that 50% of cancer cases and deaths in the United States could be prevented if people adopted simple, healthy lifestyle choices." These choices can include:
Getting regular cancer test screenings can help catch some cancers early on when they're small, have not spread, and are easier to treat.
Maintaining a healthy weight can help prevent cancer as being overweight or obese is a major risk factor for some cancers such as colon, breast, and kidney.
Exercising regularly has substantially shown to reduce risks of several cancers. Studies have found that an increase in physical activity can lower the growth factors that have been associated with cancer. The American Cancer Society recommends adults to get at least 150 minutes of moderate to intense activity or 75 minutes of vigorous activity each week.
Eating a healthy diet is one of the best habits you can have. Studies have shown eating more fruits, vegetables, and whole grains are linked to lower risks of developing cancer.
Avoid tobacco. Tobacco is responsible for almost one out of every five deaths in the United States. 80% of lung cancer deaths and 30% of all cancer deaths are caused by tobacco use.
Alcohol consumption has shown to increase your risk for certain cancers such as breast, throat, liver, and colon. The American Cancer Society recommends men to have no more than two drinks a day and women to have no more than one.
Financing Cancer
Upon a cancer diagnosis, a patient probably wants to visit the best doctor...but what about a financial advisor? Cancer is expensive. There are two questions that need to be addressed when dealing with cancer treatment: Does the patient have health insurance? Does the patient have money in savings for deductibles and other out-of-pocket expenses?
Cancer could bring financial toxicity. Unfortunately, it's not uncommon for cancer patients to drain all their accounts, file for bankruptcy, or even lose their house.
Insurance May Not Be Enough
The 2017 Employer Health Benefits Survey conducted by the Kaiser Family Foundation and Health Research and Education trust found 57% of employees with individual insurance plans had an out-of-pocket maximum more than $3,000 in 2017.
For many insured and uninsured people, the cost of cancer can be catastrophic so much so that they skip or delay treatments. Many patients can't continue to work which means no income. Those who have insurance and a job that has paid sick time could still be affected by financial toxicity by running out of sick time or having to take unpaid medical leave.
The Importance of Supplemental Cancer Insurance
Supplemental cancer insurance is meant to bridge the gap between what a patient's insurance pays and what the patient must pay out of pocket. These expenses could include:
copays
extended hospital stays
lab tests
treatments
Additionally, supplemental cancer insurance can cover non-medical treatments such as:
home health care
supplemental income
child care cost
travel and lodging expenses for treatment
Among many other things, the burden of cancer is mentally, emotionally, and financially draining. As cancer claims more and more lives, researchers and scientists have dedicated their lives to finding intelligence, treatments, techniques, and cures that will stand for the fight against the disease. Society is more hopeful now about the progression of cancer cures than ever before. We've learned many habits and things to avoid to help reduce our risk of cancer. With all the advancements and discoveries, we're more prepared for the fight against cancer than ever before.
1. American Cancer Society, 2018

2. Cancer.org, 2018
Join The Globe Life Family of Companies With Over 16.8 Million Policies In Force
Globe Life's values have remained the same since our roots began in 1900.